Bitdefender develops and markets cybersecurity products and services for companies and consumers including endpoint protection (with hardening and risk analytics capabilities), extended detection and response, multi-cloud security, and managed detection and response, antivirus software, IoT security, VPN and privacy services worldwide since 2001.
Is an enterprise security platform for breach avoidance that provides high protection and performance while delivering centralized management, easy deployment, and the freedom to choose between a cloud or an on-premise hosted management console. It prevents, detects and responds to all threats that might affect any of your organization's assets.
GravityZone Business Security
Consistently superior protection, combined with risk management and vulnerability assessment.
A single console gives you comprehensive protection for your workstations and servers (physical or virtual) and also keeps you informed on the risk factors by discovering and prioritizing risky OS and software misconfigurations. GravityZone Business Security blends machine learning and heuristics with signatures and other techniques to offer protection against all types of malware, plus threats such as phishing, ransomware, exploits and zero-days. Pioneering and patented technologies like Process Inspector and machine learning algorithms have been constantly developed, trained and used since 2008.
Multi-layered next-gen security solution, that consistently provides best-in-class prevention, detection and remediation against all kind of threats
Uses machine learning, advanced heuristics, advanced anti-exploit and other proprietary techniques to protect endpoints
Best protection and performance according to independent industry tests
Proactive hardening and risk analytics to reduce the attack surface
Network based security to stop attacks aiming to gain access to the system by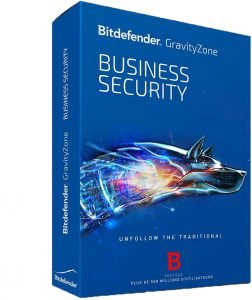 Bitdefender GravityZone Advanced Business Security
It offers comprehensive protection for physical and virtual desktops and servers, plus mobile devices and security and antispam for Exchange mailboxes – all managed from a single console.
Make malware infections and system slowdowns a thing of the past with the #1 ranked solution for protection and performance in independent tests.
Guard against all threats and attack vectors with proven machine learning, behavioral analysis, advanced anti-exploit, continuous monitoring of running processes and risk assessment capabilities.
Safeguard your organization from a full spectrum of sophisticated cyber threats.
With more than 30 machine learning-driven security technologies, GravityZone provides multiple layers of defense that consistently outperforms conventional endpoint security, as proven in independent tests.
A single-agent, single-console solution for physical, virtual, mobile, and cloud-based endpoints and email, GravityZone Elite adds the human element in to your security ecosystem, minimizing management overhead while giving you ubiquitous visibility and control.
Highlights
Attack Forensics and Visualization.
Endpoint Risk Management and Analytics.
Risk Management and Analytics helps control risk and reduce attack surface.
Patch Management, Encryption, and Email add-ons further strengthen security posture